di Lorenzo Baldini
Marcel Mauer: Let's start from now. What are you currently doing?
Kersten Geers: This is a good question. Let me think. Very practically speaking, we spent the last three months doing an endless amount of competitions; eight in total, which is crazy, and it's not necessarily a moment where we can profess our clarity. You know how these things work: you apply for competitions then you are selected for a second round, even half-year later, and suddenly it all comes together. So very practically speaking this is what we have been doing. We have been trying to understand what things are important to us. Of course they aren't clearly defined, and only through instinct we do know what we are doing, we do know how we can translate the important things into projects. In these competitions we often have to do very specific tasks. We did a competition for an office building in Paris, for example. Our question was: "Can you make an office building in Paris which is intellectually interesting and one that has a chance of winning the competition?" It creates an interesting challenge as pragmatism and ideology confront one another.
So if you ask me what we have been doing in the last few months I think it is exactly that. It was funny because it coincided with an interest that has been always there. It was formalised in a seminar I have been giving at Columbia a while ago and this semester in Mendrisio. Our seminar Architecture Without Content, provocatively states that you can make good architecture even where and when a complex idea of space is considered irrelevant. It has happened to us very often. For example with office buildings, the client already knows how it should work, there are very precise target area measurements, there is a certain floor depth that has to be provided… We are currently working on two projects that can be effectively classified as "big boxes": a big box for one, two or three companies, another big box that is a drying hall to dry plants. There is no invention to be done in the plan, because there is no complication in the briefing. The building is almost machinelike. It is just inherited from the client. He/she comes to you and says: "That is what I want" and you have to ask yourself whether you think if what he/she wants is a valid question to be asked in an architectural discourse or otherwise you simply have to reply "no, we cannot do anything with that". And so I think at the moment we are really interested with this kind of questions. I would almost argue that only twenty per cent of clients' briefing would be engaging for an architect. At least one element has to make the whole building interesting: the thickness of the facade or the massing of the building or the location. ––
MM: You are describing a very practical involvement with the client's briefing
KG: Absolutely. When we did the Biennale pavilion in 2008, our approach was the same. We wanted to make a statement about architecture but we could not touch the building, so we only worked around its perimeter. We chose to throw confetti on the floor and, in some way, by touching only 30% of the existing building we tried to twist the complete perception of it. In a sense our work has always taken the reality into deep consideration. Similarly, at the Biennale last year we built a roof and turned an existing building, which was unremarkable in many ways, into a piece of architecture. Not because it was necessarily more beautiful but because our act clearly expressed an intention of turning the existing building into a piece of architecture. So this argument about intentionality has always been a key to our work. You could argue that the difference between a building and a piece of architecture is only this: it is not really a difference in quality; it is fundamentally a difference in intentions. The difference between an office building that we want to design and one that we do not is in the intentions. The difference between a simple 'box' and what we want to design is that we would like to get certain points across clearly. That's it.
MM: This intentionality, is at once the method and the result of your research. How do you find a balance between your commissioned work and the amount of time you spend in research?
David Van Severen: We do not differentiate that much between research work and paid work. From the beginning we carried out projects with the intention of doing both research and construction. A good example is the competition for the border crossing from US to Mexico. Our proposal won the competition. Since the beginning, we knew that the context was going to be a very difficult one: two countries and one heavy border. Although all projects in that area are highly problematic, we interpreted the design in a pragmatic way. We did not play games with the theories of borders and their difficulties; we just stated it was possible to design a project there. Even without the constriction of a specific briefing, by going through the process of designing, we have already investigated architecture and carried out research.
KG: There are two different competitions: open and with invitation. These two are very different from one another. Entering an open competition is like a single shot – more radical and better in many ways. Among something like 200 competitors, the objective is to be spotted quickly. Conversely, in a competition with invitation, an element of pragmatism must be injected. The challenge of the last three months for us has been "How do we maintain the angle?" or "Are we able to communicate that angle and – at the same time – make a convincing office building or care centre"?
Our architecture has always been driven by pragmatism. We design relatively cheap buildings, because in Belgium you can only build cheaply. We have always tried to be inventive with the few things we could play with and in this respect – since you have to be inventive and cheap at the same time – intentions become fundamental. It is important to formulate very clearly what is the objective or somehow to keep it in mind, in order to be able, when forced, to change from material A to material B and still maintaining the initial intention or to change from detail A to detail B and still have the feeling that you did not lose what you previously wanted to do. So in that sense, in the last seven years we gained a lot of practice in this. The only difference now when doing competitions is that we have to portray this attitude in the non-yet built project.
DVS: It comes down to personal belief. With some very basic things, even elementary one might say, it is still possible to think about in architectural terms. And that's important to realise. We don't believe that a huge budget or an exceptional commissions are necessary to grasp those fundamentals. A similar example would be the Biennale last year. Our budget was 7,000 euros. They told us: "Do something". So we did. We made a light roof structure. Of course it costed a bit more, we are not saying that we managed to keep it in such a tight budget. Finally we found some financial help although the final figure was still ridicule. Nonetheless, we are happy with the result even today.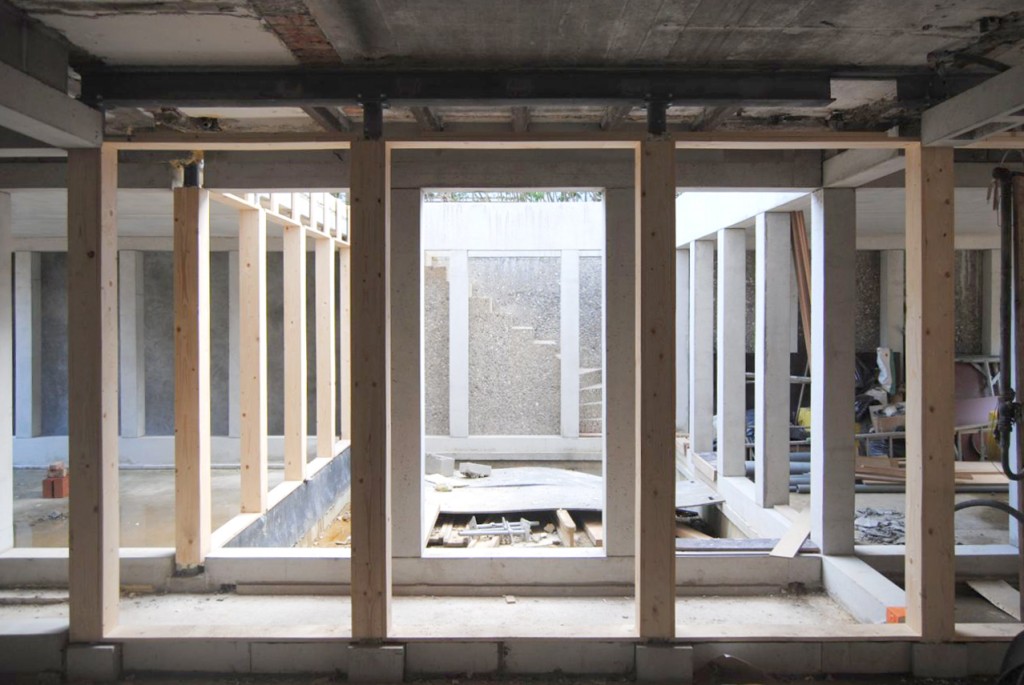 MM: This strive for the intentionality makes all your work an opportunity for research. Can we stretch it to say that research is never something separate from your daily practice?
KG: Every design question engages with the context, right? Interior design engages with the value of an interior. The design of a house in a row must engage with the issue of living conditions in nowadays cities. The design of an office building engages with representation and appearance of its content. Many ideas often return. There is a set of elements, ideas, values. There is a certain language although it has never been written. I mean we don't have a book here in the office that defines what we should do and often we start with a project going quite in the other direction. But things return. Plans never executed are resurrected and a project, which it was meant to be a house, resurfaces as an office building or as a city plan. We believe in being able to describe things in architecture precisely, this is closely related to intentionality. There is a set made up of a limited amount of elements in architecture that seem to come back all the time. Hence, you have to test each element: you want to be precise so the architecture is not allowed to get too complex.
MM: How do you choose the competitions you are going for?
KG: Everything is potentially interesting!
DVS: Yes, for example in Belgium the land has all been built on. Here you see what you could call the 'backside of the medal of architecture'. Every architect wants to design public buildings, such as libraries, museums, etc. If you take yourself as a very serious architect then that is what you need to do. But what we also appreciate is the fact that, even within an industrial hall located somewhere in the middle of some field, there is a possibility to talk in a very simple way about what we are interested in architecture. What you could call banal commissions are as interesting for us as a large museum in the city centre. It is also a question of responsibility. As architects, we need to think about where we live and where we are.
KG: We have always been interested in pushing the limit of what can be expected from architecture. So to say, can you design a bridge as a piece of architecture and not simply as the expression of its structure? Can you deal with this very complex situation of an Expo hall facility where in the end the client will only need resolutions for lights, indications, asphalt, and things like that? Can you still make architecture there, at the gigantic scale of the trucks? Is it possible, just by making two or three changes to the elements of a building, to argue that the result is still a piece of architecture?
The same goes for the big boxes that I have been telling you about, which are something that now weirdly coincide within our teaching and our office. Last year we were teaching about collective housing at the same time as teaching about copies: how to copy, what is a copy and so forth. This is something we have been interested in. Of course we have not stopped working on copies. I mean, copies are still there and housing is still there, but it is a layering process. Bringing it up as a studio topic you can try to get a clearer idea of what it is about.
Artists, conceptual artists, like ED Ruscha, an important artist for us, they do not want to explain their intentions or their strategies in one piece of work. It is in a set of works where a certain approach towards things is somehow revealed. An approach they would probably even deny afterwards. They would say "oh no, it is not important". Topics we have been long arguing about like The Architecture for Itself, or Architecture as Architecture, should not be explained too much. You can explain your interests but the work should somehow speak for itself. When one considers a built project, or when one sees a set of plans and perspectives the intentionality should be self explained. This is what architecture should be about.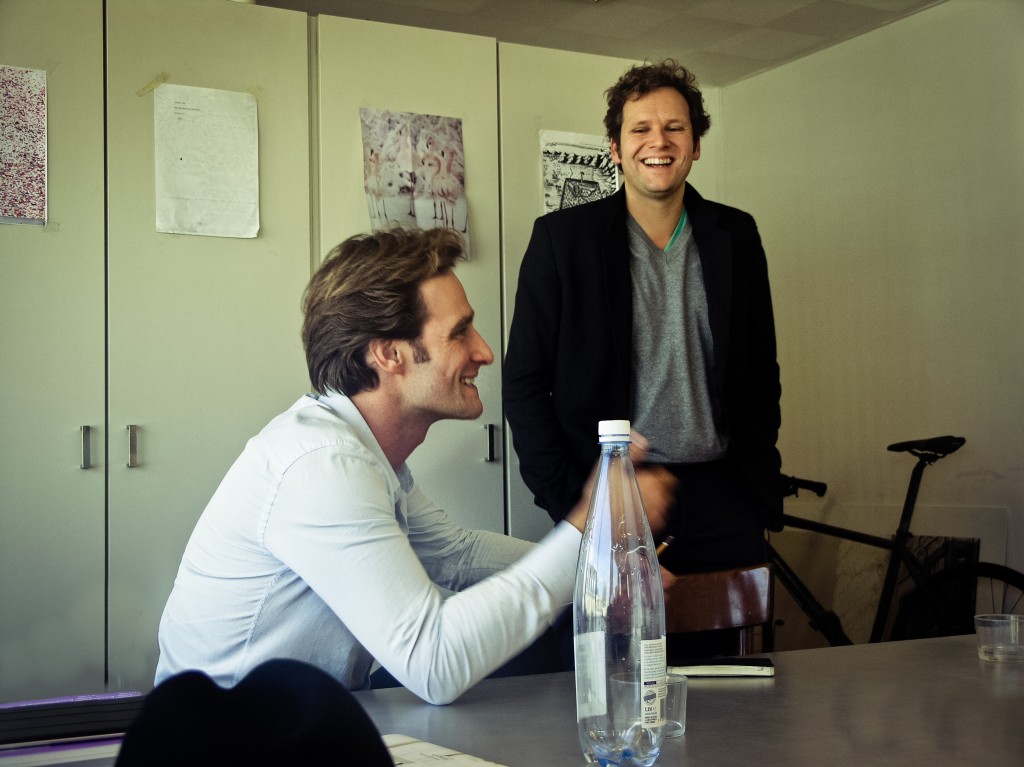 MM: Next year you will be celebrating ten years of the office, has awareness of this pragmatic intentionality or intentional pragmatism been with you from the beginning?
KG: It has always been there and it is even true that we haven't invented it. We have been both educated by the duo Abalos and Herreros in Spain, they have been very important for us. In regards to this topic, Abalos also wrote a text on the intentions of Alejandro de la Sota. It is not as we see ourselves as their heirs but we shouldn't deny their influence.
MM: How important was ETSAM in your education?
DVS: For us ESTAM has been Abalos and Herreros, and in that respect it has been very important. If I speak for myself the four years before at Gent University were important as well. We trained to be architects and engineers there but going to Madrid was really eye-opening. The way they were teaching was all about taking positions and giving a lot of references, this was very important for them, you can't teach architecture in abstractu, you have to confront yourself with the reality and with references.
This attitude is still very important in our practice, the fact that you are not alone in the world and you are all the time confronted with a specific situation. How to craft your reaction is fundamental.
MM: Tell us more about these references you are referring to, do they strictly belong to the discipline of architecture?
DVS: Not necessarily. A good example would be the David Hockney painting A Bigger Splash, which was explained by Inaki Abalos when he talked about living. Suddenly you see that all these things can be references and should be references and that you can connect them together and speak with them.
KG: I agree, for us ETSAM was Abalos Herreros, there was nothing else. When I was there the main topic was the Smithson – the Smithson before the fashion of the Smithson – which came about 4 or 5 years later; and Alejandro de la Sota was also fundamental for them. The case studies were about the weird modernism, the fucked up modernism.
DVS: Also in a way we had a lot of things in common with them because of Los Angeles. Los Angeles is a strange place and it is where we got to know each other better because of a school trip. We went there again later for another project. There is the idea of congestion, the fucked-up modernism that has been translated in a lot of artists' works. All these things were coming back to us in a strange way; they were also translated in a Spanish way in Madrid by this kind of no-nonsense almost industrial approach of Abalos Herreros.
KG: Also there were other sources: there was Neutelings Riedijk, who had a deep interest in crazy architecture, and all the very heavy early German modernists and Adolf Loos and Aldo Rossi etc. Not necessarily these things came from Abalos Herreros and I think our architecture is defined by all these references together. The collection of references is a precise character of ours, although this collection is not finite, it kind of grew by teaching or writing or working with other artists. I think the reference to the work of various artists has always been important. In the beginning it almost happened naively, looking at the work of Dan Graham but then over time it became a more complex and aware reference to art installations. We work often with Richard Venlet, an artist from Bruxelles, who sometimes opened our eyes on the work of some architects. He would say for example "Oh! Look at Carlo Scarpa!" and for us Carlo Scarpa has always been a kind of weird intricate design, but Venlet would say: "Look the double circle which coincides: it is beautiful!". And so we might look at it through his eyes and then decide to go to the Querini Stampalia, he may be right.
That has been very important for us: that we don't have to look with the prejudices of an architect at many of these things, but through these friends we can do this. I think it is a very important key to our universe that you can, in a way, indirectly re-approach things, whether it is the terrible 80s things of Hollein or the interesting stuff that everybody likes Loos, we can look at it in a fresh way.
MM: What is interesting in this universe of cross-disciplinary references is that the references often refer to quite different political and ideological context. Is this of any relevance to you?
KG: We are aware that they come from everywhere, and we believe it is a mistake to connect a certain architectural style or solution with a certain ideological content. This is done by some people who think that if you put four columns in a row it is fascist! This is a problem. But then of course, as people, we are ideologically aware, and many of our projects express a certain political interest. However, as designers we are interested in re-using things, which for many people have already a certain smell, or a certain meaning, and taking these things out of that corner and reapplying them.
DVS: The surrealism of Belgian politics is a good example of how we deal with it! In a sense all is relevant and all is not relevant, at the same time. And it is also fundamental to be able to see the seriousness and the humour at the same time in our daily practice. Humour is very important to us. If you place a project in a certain position or that kind of political philosophy you will almost kill the project before it starts. We believe that you have to give it the freedom so that almost everybody could claim it or, at least, so that anybody looking at it or experiencing it has his/her own experience and interpretation.
KG: It is almost scary how things get appropriated. When we did the Belgian pavilion it had many layers of interpretation, which we have explained a number of times, going from after the party / during the party architecture to the experience of architecture and so forth. Then the Flemish deputy said in her speech that this project represents the Flemish wall that will cut off Flanders, you know what I mean? And then you are shocked! This shows how extreme the interpretations can go and how aware we must be about that and how replaceable these ideas can be. The ideological interpretation of intentionality is a problem in architecture. It is the same problem of writing about architecture, about the history of architecture. It is very important that architecture is first of all architecture. You have to be allowed to take a certain special idea and maybe you can see something in it but it could be better to just forget about it.
DVS: We try to be loud with our projects, we do not shout slogans next to them trying to show what they actually mean.
KG: A good reference for that is Gerhard Richter. He has been interpreted as a painter of all different styles throughout his career and he always said: "Sometimes yes and sometimes no", because I think he was aware of the fact that if said yes too loudly he would die in the next phase, yet also, if he had to deny it he would be out of that stylistic phase. So he manoeuvred the general feeling. And he rightly did that because now his work stands on its own.
Another good example: Ed Ruscha was painting gas stations. He was asked if by questioning the gas station as vernacular architecture the architecture of the 1960s in LA should all be reduced the metaphor of the gas station. His answer was "Actually this gas station is in Oklahoma." He did not deny but gave another topic in place of the desired answer.
This is the very position we have, because as architects, and like other artists, we have to create works that will engage with an ambiguous interpretation and that ambiguity is fundamental to the cultural practice.
MM: This ambiguity you are describing seems to provide a device to preserve the independence of architecture as a discipline.
KG: Yes. You have to do so to save architecture. It is almost impossible to do architecture nowadays. It is hard, everybody thinks that architecture is something else from what it is, and architects' tools have been taken away. It is all just about representation. It is not about the definition of space.
DVS: Everything has been hijacked for publicity purposes or for something else. Architecture is a very weak profession because architects need to work and often accept work conditions that spoil the discipline. Architecture is being abused and violated by developers all the time. It is important to still keep the distance from that way of working but of course we never wanted to shoot our own colleague. Ultimately architects should stay on the same side. We have to be there, trying to give a different voice.
KG: Because one can also stay on the other side, it is always possible to lock yourself in the academic world and say that everything is fucked up, that we need a new dogma but this position does not help anybody. I think you should be extremely precise and critical. And we must find a way.
A model for me is Adolf Loos, I know it sounds ridiculous to say Adolf Loos is great, but he positioned himself very precisely. He was not afraid to state his position. He was an extremely critical architect and did not worry about the conflict between theory and practice. He had an amazing sense of humour on this topic, because he was not trying to build buildings which were supposed to represent the idea he had written down before. Some of his buildings are often completely different from one to another, but nobody doubts the precision of his intentionality in each of these projects. You have to try to develop a critical practice within the practice itself, critical and investigative.
DVS: Although it is again a more pragmatic discipline, architecture is fundamentally a cultural product and as such can be discussed similarly to other arts.
Bruxelles, 9 novembre 2011