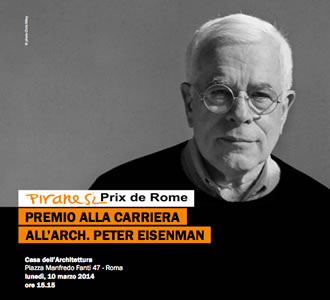 Premio alla carriera a Peter Eisenman
Piranesi Prix de Rome 2014
proiezione documentario, lectio magistralis e premiazione
lunedì 10 marzo 2014
dalle ore 15.15
Casa dell'Architettura
Piazza Manfredo Fanti 47 – Roma
L'Accademia Adrianea di Architettura e Archeologia e l'Ordine degli Architetti della Provincia di Roma annunciano l'assegnazione della quarta edizione del Piranesi Prix de Rome 2014, riconoscimento all'alta cultura classica in architettura, all'architetto newyorkese Peter Eisenman, classe 1932.
La premiazione si svolgerà a Roma, lunedì 10 marzo 2014 dalle ore 15,15 presso la Casa dell'Architettura Acquario Romano, con una cerimonia aperta al pubblico.
CERIMONIA DI PREMIAZIONE
"Designing Archaeology. Architecture for the Development of Archaeological Heritage" Piranesi_Prix de Rome 2014 insignito nel 2013 della Medaglia del Presidente della Repubblica Italiana Premio alla carriera all'architetto Peter Eisenman.
ore 15.15 PROIEZIONE DOCUMENTARIO SU PETER EISENMAN
PETER EISENMAN: BUILDING GERMANY'S HOLOCAUST MEMORIAL
di Michael Blackwood a cura di Art Doc Festival
ore 16.30 SALUTI ISTITUZIONALI
ore 16.30 INTERVENTI
Franco Purini
Francesco Dal Co
ore 18.00 LECTIO MAGISTRALIS 
Peter Eisenman
ore 19.00 PREMIAZIONE