O: Quindi erano performance?
P: Sì, assolutamente! Poi in quel periodo lì… insomma non mi invitavano ancora a cose importanti. La prima mostra grossa che feci fu Art Basel a Basilea. Partimmo io, il fotografo Renato Calò e un grafico, con un Transit, e io feci stampare delle t-shirt con la scritta "my work will remain in the memory of recording". La mia idea era quella di auto-espormi qui, ma non solo, volevo pure lasciare un segno, quindi portai con me delle plastiche autoadesive bianche con le impronte serigrafate delle mie scarpe. Arrivammo lì in furgone con un carrello carico di magliette, ogni maglietta aveva il nome di una galleria molto famosa per cui avevo deciso di auto-espormi. Facemmo tutta Art Basel così. Di galleria in galleria io cambiavo maglietta, mi posizionavo sulle impronte in pvc che attaccavo a terra, Calò mi fotografava e poi spostavo qualche oggetto lì esposto, senza che nessuno mi fermasse.
Z: Ma poi lei successivamente è stato realmente esposto in celebri gallerie, come per esempio da Leo Castelli, giusto?
P: Sì, lì fu un'altra avventura. Dopo le mie prime pubblicazioni su Domus capii che era il momento di muoversi, all'epoca già lavoravo con Cardazzo della Galleria del Naviglio, e insomma gli dico che voglio fare una mostra a New York e se mi può prendere un appuntamento con Castelli e lui riuscì poco dopo a prendere un appuntamento per me. Quindi io prendo un aereo e vado a New York, lì incontro prima un mio amico siciliano, Salvatore Scarpitta. Era un folle, un pazzo furioso che all'epoca lavorava per Castelli. L'appuntamento era alle 11 e io con Scarpitta aspettavo già da un'ora, e la segretaria disse che Castelli era occupato al momento. Io gli dissi che ero qui apposta da Milano e che avevo preso un appuntamento tramite Cardazzo. Beh Castelli mi fece entrare ma si incazzò, e appena entrato mi disse:" Venga venga, mi faccia vedere che cosa ha portato". Io gli feci vedere i miei disegni delle mie sfere biodegradabili, e anche le foto. E lui rispose stizzito: "Sì sì, queste non sono una novità, ha altro?". Io non capivo, ero perplesso, lui si alza e va alla libreria, estrae un numero di Domus e mi dice: "Non vorrà dirmi che questo è suo?" e io: "Eh si, le dico che è mio". Allora comincia a calmarsi, parliamo un po' e poi mi chiede se potevo lasciargli i disegni che avevo portato, e poi mi dice: "Sa se Cardazzo fa Art Basel quest'anno?". Io gli dico: "Certo, come sempre". Allora lui replica: "Ottimo, allora ci vediamo ad Art Basel quando c'è anche Cardazzo e organizziamo una sua mostra". Il tutto accadde in aprile.
A giugno con Cardazzo si va quindi a Basilea. Io lì cerco Castelli e lo trovo mentre sta finendo di allestire, ci salutiamo e lui mi chiede di Cardazzo, io gli dico che è giù che sta allestendo e lui dice di aver quasi finito e che se volevamo si poteva parlare anche subito. Chiamai Cardazzo, arrivammo da Castelli e loro si misero a parlare di tutt'altro, alla fine chiesi a Cardazzo se si poteva concludere, ma lui mi disse soltanto che avrebbe scritto a Castelli al riguardo. La cosa finì li. Castelli non mi restituì più i miei disegni e dopo poco morì.
O: Ma in questo periodo frequentava pure architetti?
P: Sì, li conoscevo quasi tutti quelli che poi sono diventati "maestri".
Z: Un'altra cosa che notavamo è che le sue sfere, i suoi monumenti, sono sempre inseriti in specifici contesti, hanno sempre un forte carattere urbano.
P: Sì, ne ho disegnati ovunque di questi monumenti, poi l'idea era anche che in queste città sti cazzo di monumenti erano inutili! Non ricordano più nessuno, poi non tutti chiaramente, però pensiamo a sto cazzo di Vittorio Emanuele, ma chi se ne fotte di Vittorio Emanuele? L'idea mia era di toglierli e di realizzare dei monumenti effimeri, per vari avvenimenti. Non so per esempio quando l'Italia vince il campionato del mondo si può fare un monumento a breve durata per questo specifico evento. Poi il monumento svanisce e si lascia libero lo spazio per un altro evento.
O: E qui poi inizia anche l'attività da scenografo per il PSI?
P: Si, iniziai con il partito un po' prima, nel '78 con il congresso di Torino. C'era questo palazzotto dello sport, credo del basket, ed era perfettamente circolare così pensai che poteva essere bello disegnare al centro con il mio allestimento un simbolo della pace, e così feci.
O: Ecco, a questo proposito l'apparato iconologico e simbolico era deciso a priori dal partito?
P: No no, lo decidevo io. Sempre. L'inserimento del simbolo della pace fu funzionale poi a dividere i vari spazi del congresso, da una parte tutta la stampa con i giornalisti, da un'altra tutta la delegazione straniera e poi in un'altra ancora il pubblico.
Altra cosa fondamentale: questo congresso fu il primo in cui si vide per la prima volta il garofano rosso, questo perché Craxi non voleva la falce e il martello, sosteneva che noi socialisti eravamo i cugini poveri dei comunisti e che quindi avremmo dovuto trovare un nostro simbolo. Pure i socialisti francesi in fondo cambiarono il loro simbolo e misero la rosa, ma allora il segretario dei socialisti italiani era De Martino che era comunista più che socialista quindi non se ne curò, e Pannella invece, che era uno che aveva l'occhio lungo si prese lui il simbolo della rosa nel pugno. Nel frattempo fu proprio in occasione di questo congresso che Craxi divenne segretario. Quando disarcionarono De Martino alla guida del partito c'erano tre correnti e quella di Craxi era quella più debole.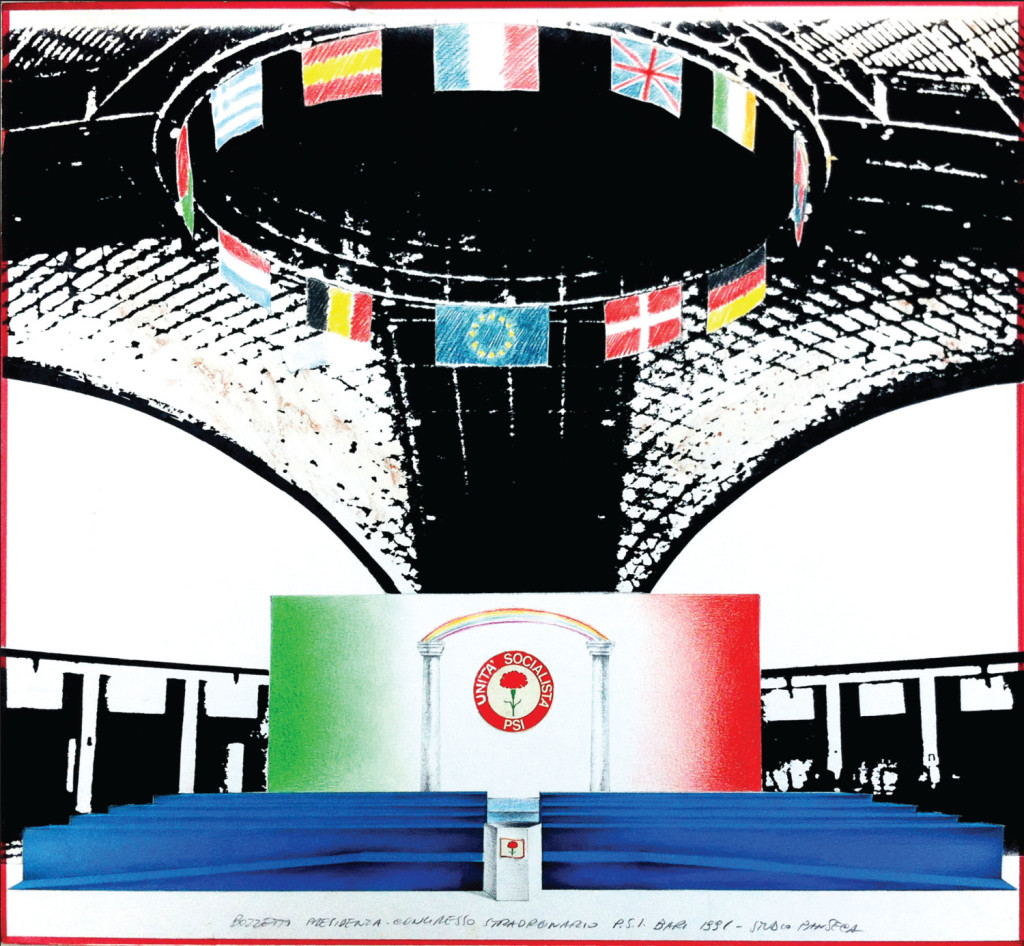 O: Ma lei conosceva già Craxi?
P: Io l'ho conosciuto qui quando sono arrivato, nel '68, lui era ancora consigliere comunale.
Z: Ma Craxi conosceva già la sua opera all'epoca?
P: No no, ci siamo conosciuti per caso, cenavamo nello stesso posto, all'Angolo, era una trattoria in via Fiori Chiari. E lì c'era questo Angelo che era un comunista di quelli sviscerati, che aveva istituito pure un tavolo per pittori e artisti in generale e quindi si poteva mangiare senza pagare a patto che il giorno dopo gli portassi un quadro, e c'erano tutti lì, ci trovavi Dova, Crippa, Fabbro, De FIlippi e tanti altri…
Z: Sarebbe interessante per noi capire quali erano gli intellettuali e gli artisti che all'epoca frequentava e con cui intratteneva rapporti più frequentemente.
P: All'epoca c'era un posto dove potevi incontrare tutti quanti.
Z: Il Giamaica?
P: Non solo, al Giamaica ci andavi il pomeriggio tardi o la sera, c'era anche Oreste, ai funerali di Pinelli si sente una voce che dice: "Ci vediamo sta sera da Oreste". Era in piazzetta Mirabello, vicino via San Marco, era un semplice bar con i biliardi e stavamo lì fino le due, le tre tutti i giorni e potevi incontrare chiunque, c'era Feltrinelli, Pomodoro, Dova, Crippa… tutti lì erano, si parlava si giocava a biliardo e poi si beveva fuori nel giardino e spesso ci arrivavano secchiate di piscio perché facevamo troppo casino.
Ecco invece per rispondere alla domanda di prima, tra gli artisti con cui ho intrattenuto più rapporti per primo ci fu Ugo La Pietra che conobbi ancora quando stavo a Palermo e avevo aperto una mia galleria, lo invitai a esporre e diventammo amici, fu lui a mandarmi a Paullo da Mauro per la realizzazione delle mie opere quando arrivai qui a Milano. Poi vediamo, c'era tutto il giro della Galleria del Naviglio, tutti quelli che passavano per di là insomma.
Z: Qui invece in questa foto era assieme a Rotella.
P: Mimmo era un mio grande amico. Come sapete lui faceva i suoi collages. Quelli a manifesti strappati, e molte volte utilizzava già situazioni e manifesti esistenti. Io insomma una volta feci fare per un lavoro delle litografie su metallo, e lo feci fare a una fabbrica specializzata in stampe su metallo e lavoravano con diversi marchi. Quando feci un giro per la fabbrica mi accorsi che c'erano buttate ai lati dello spazio centinaia e centinaia di bozze di stampa su metallo, che per loro non erano facili da smaltire, così presi e me ne portai a casa una decina, un giorno Mimmo passò nel mio studio e gli dissi: "Mimmo guarda, ho trovato una decina di quadri tuoi…". Gli feci vedere queste prove di stampa su acciaio sovrascritte e lui disse: "Bellissime, ma dove le hai trovate? si possono avere?". E io in cambio dell'informazione mi feci firmare da lui due di quelle lastre, le ho ancora qui da qualche parte…
O: Invece passando agli allestimenti dei congressi, ecco questo è Rimini. (mostriamo foto allestimento)
Z: Ecco ci chiedevamo il perché della forma, della scelta del tempio.
P: Dunque, semplicemente qui entrai per la prima volta in questo spazio, e la prima cosa che notai era la quantità esagerata di colonne quindi mi sono messo a sedere, ho riflettuto e ho pensato: "cazzo e se ci faccio un tempio con le colonne?"
Z: Quindi ha replicato precisamente le colonne esistenti già nello spazio?
P: Si esatto, ho replicato perfettamente le colonne e ci ho semplicemente messo sopra il resto del tempio. Poi è successo un casino, i giornali ne hanno parlato fino allo sfinimento, tutti a fare dietrologia sull'immagine del tempio, nessuno aveva capito un cazzo. Quindi fissammo delle staffe in acciaio a terra, che sarebbero state le basi delle colonne, e sparammo enormi chiodi in acciaio in modo da avere la sicurezza che la staffa non si sarebbe mai mossa da li, poi la gru sollevava ogni colonna, una alla volta per il capitello e così la metteva in opera. Infine posizionammo il frontone con il nastro a led in cui ci potevamo scrivere i messaggi riguardo al programma della giornata da comunicare alla platea e il gioco era fatto.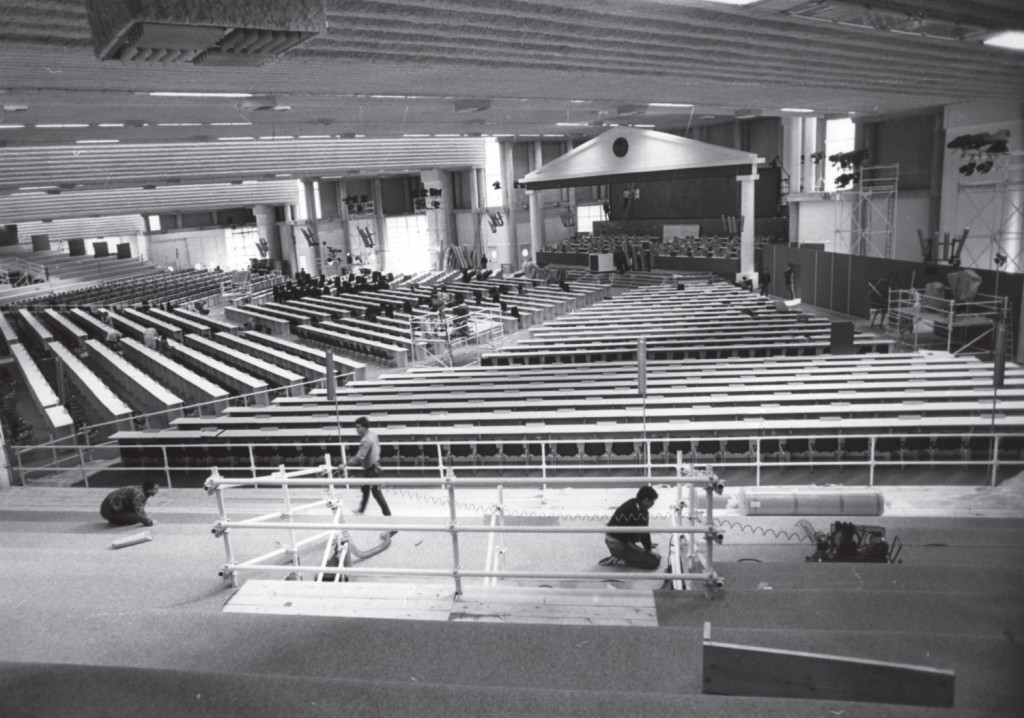 O: È interessante l'uso di un linguaggio classico ibridato però con tecnologia contemporanea.
P: Sì ma non ci si pensava nemmeno a questo, mi interessava il fatto che tutto fosse estremamente tecnologico, computerizzato. Pensate che i delegati potevano collegarsi in video e vedere il tutto dal loro camerino privato mentre si preparavano per il loro discorso.
Poi il più bello in assoluto, quello più completo fu quello dell'Ansaldo. Anche qui tutto computerizzato. Poi era lunghissimo. Ora è chiuso tutto perché è diventato uno spazio per le scenografie della scala, ma è impressionante, è 100x70m, più di un campo di calcio. Tutto questo lavoro venne fatto in nemmeno un mese, c'erano più di 200 operai al lavoro e io dovevo organizzare il tutto, all'epoca era difficile poi comunicare senza telefoni portatili e altre tecnologie di cui ora disponiamo.
O: Ecco noi qui avevamo trovato questo video, dove Craxi viene intervistato da Minoli a Mixer nel 1989. Minoli parla della piramide dell'Ansaldo utilizzando l'espressione piuttosto curiosa "dedicata a un dio minaccioso". Ci chiedevamo quale fosse questo dio minaccioso.
P: Pensava che la piramide portasse sfiga siccome era la tomba dei faraoni. Comunque questo fu un allestimento veramente d'avanguardia, fu la prima volta in Italia che vennero utilizzati led in quadricromia, prima li si poteva avere soltanto monocolore, infatti l'allestimento di Rimini in questo senso fu quasi una prova. Sono riuscito ad avere questi led veramente innovativi grazie a Formica, il ministro dell'industria, socialista, chiaramente. Dovete sapere che questi led arrivavano contingentati dal Giappone e lui apposta per me e per il mio progetto di allestimento fece un decreto in cui si autorizzava a importare anziché 10.000 led, 50.000 led. Poi io volevo che il tutto fosse piramidale e quindi i led dovevano essere tagliati e customizzati a mano dagli operai allestitori. Il fatto è che era sabato, era tardi e nessuno aveva ormai più voglia di andare avanti, tutti volevano andare a vedere la partita dell'Italia. Era credo un partita di qualificazione per Italia '90 o qualcosa del genere. Quindi io per farli continuare a lavorare li rassicurai e gli dissi che avrei registrato io la partita e che a lavoro ultimato avrei preso da bere per tutti e ci saremmo potuti guardare la partita sulla piramide.
Z: Dunque, prima dell'Ansaldo e di Rimini però ci fu l'allestimento di Verona dell'84.
P: Sì (ride), lì feci una discoteca, tutta neon e specchi.
O: E anche qui, lei ha sempre totale autonomia?
P: Sì certo, ma vi dirò di più, tornato al primo congresso che feci, quello di Torino del '78, lì c'era ancora questa sorta di triumvirato nel partito, dovevano ancora scegliere il segretario quindi si divisero i compiti e Craxi si occupò dell'organizzazione del congresso. Io di lì a poco ricevetti una telefonata e Craxi mi disse: "Te la sentiresti di organizzare e disegnare il mio congresso?". Io gli risposi di sì chiaramente e lui mi disse: "Bene, vai a Torino, guarda questo palazzetto dello Sport e fammi un progetto". Io andai e in pochi giorni feci il progetto, poi lui richiamò e mi disse senza nemmeno sapere di cosa trattava il progetto di presentarlo alla riunione dello stato maggiore del partito a Torino. Bene, io impacchettai i rotoli con il progetto e ficcai tutto nel mio sacco militare comperato anni prima a San Francisco e mi presentai a Torino davanti al palazzo della regione Piemonte in cui si teneva la riunione. Arrivato lì, il portiere non mi fa entrare, io gli dico che dovevo parlare con il presidente e che ero stato invitato da lui in persona, e lui replica solo: "Il presidente è impegnato, si sieda". Insomma, andiamo avanti così per mezzora buona, non riusciva a credere che lì in riunione mi stessero aspettando, per fortuna entrò dalla porta del palazzo il Senatore Acquaviva che arrivava da Roma pure lui per la riunione, mi guarda e mi fa: "Ma che cazzo stai seduto lì? dentro sono tutti che aspettano te e nessuno sa dove diavolo sei finito!". E solo allora riuscii finalmente a entrare.