OVVERO «THE EXPLOITATION OF CONGESTION»
di Marco Biraghi
"All over the world the new model of living is being celebrated – a model of living in nature but in the city"
(Stefano Boeri)
«Architecture is a paradigm for the exploitation of congestion». Situata appena oltre la soglia di Delirious New York, l'affermazione costituisce un viatico per chi voglia comprendere non soltanto il «manifesto retroattivo per Manhattan», pubblicato nel 1978 da Rem Koolhaas, ma il senso stesso di molta architettura contemporanea. Lo sfruttamento della congestione, da questo punto di vista, rappresenta la chiave d'accesso a una molteplicità di fenomeni urbani a cui appartengono con tutta evidenza i grattacieli, ma non solo.
Risale a pochi giorni fa la notizia che il complesso The Interlace a Singapore, firmato da OMA e dall'architetto tedesco Ole Scheeren (già partner di OMA) ha vinto il World Building of the Year 2015 nell'ambito del World Architecture Festival 2015 tenutosi nella stessa Singapore. E ad appena poco prima la notizia che il Bosco Verticale di Boeri Studio è stato insignito del premio come Best Tall Building Worldwide 2015 da parte del Council on Tall Buildings and Urban Habitat riunito a Chicago.
Il valore dei premi – si sa – è relativo, ma è anche altamente emblematico: perché insieme a gratificare il vincitore, il premio costituisce un'indicazione precisa da parte dell'organismo che lo conferisce; un'indicazione che non è affatto fine a se stessa, ma che ha il potere di influenzare l'opinione pubblica, di concorrere a formare il gusto dei cittadini, e non di rado anche a orientare le preferenze e le scelte commerciali dei potenziali acquirenti. In questo senso, i premi – questo genere di premi – non sono mai casuali, e non rappresentano semplicemente la manifestazione di un "apprezzamento", o il riconoscimento di una "bravura": sono dei dispositivi di autorispecchiamento del sistema, che attraverso di essi cerca e trova legittimazione.
Nel caso specifico, che cosa significano i premi recentemente assegnati al complesso The Interlace e al Bosco Verticale? Che cosa vi è in essi di davvero degno di essere "premiato", al di là del loro aspetto estetico che può sicuramente essere considerato piacevole? In entrambi i casi, ciò che essi propongono è un modello di vita urbana intensificato, dove allo sfruttamento dello spazio verticale, comune a edifici o complessi consimili sviluppati in altezza, si addiziona un'idea di "leggerezza" e di "naturalezza", nonostante la mole che li caratterizza e i materiali di cui sono composti. Si tratta di aspetti che riflettono con precisione la fase attuale di sviluppo della città capitalistica: se infatti la crisi economico-finanziaria ha reso sotto diversi profili meno "appetibili" i colossi che hanno popolato finora le downtown occidentali o orientali (il riferimento è ormai equivalente), la tendenza odierna consiste nel mutare il volto di questi ultimi lasciandone però immutata la sostanza. L'immagine suadente, seduttiva, che promana da The Interlace e dal Bosco Verticale, si rivela così funzionale all'introduzione nel contesto metropolitano di qualche cosa di ulteriore: una nuova "utopia" edenica e comunitaria.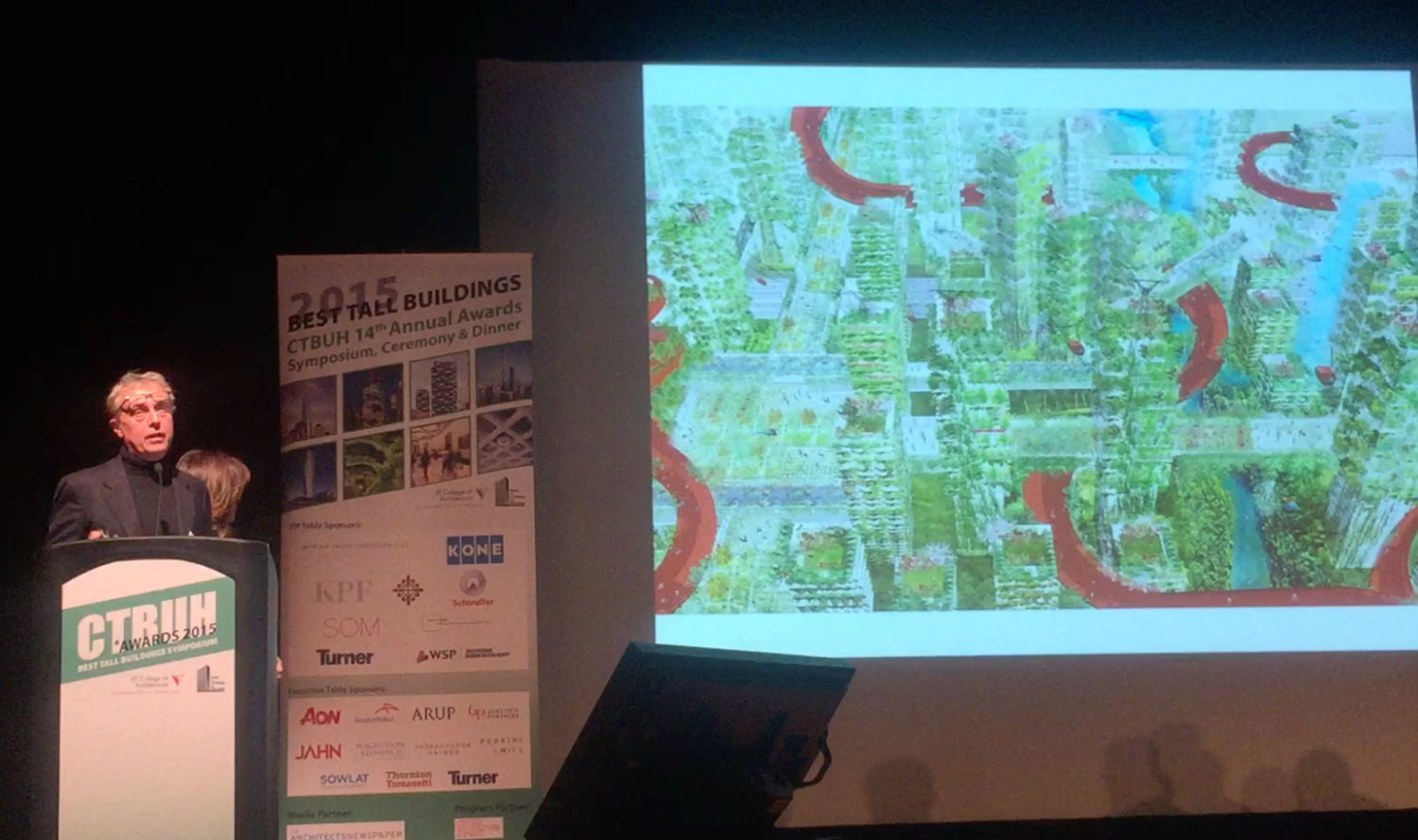 Non è un caso che in entrambi i casi sia presente, anche da un punto di vista onomastico, il rimando a forme di aggregazione appartenenti ad altri tempi o contesti, sia pure declinati in senso rigorosamente verticale: il villaggio, nel caso del complesso di Singapore, e il bosco, nel caso delle due torri milanesi. Perduta l'apparenza più crudamente fondiaria e speculativa, il quartiere intensivo e il grattacielo si presentano ora in una veste inedita, come annunciatori di una "lieta novella", vale a dire di una "bellezza" che è la traduzione sul piano estetico dei "buoni" rapporti che promettono d'innescare, con la natura e con gli altri abitanti. Il tutto, nel cuore stesso della metropoli, ma una metropoli che in loro si trasfigura completamente, quasi si trattasse di una località di vacanza permanente.
Premiare questa nuova utopia verticale significa allora gratificare di più che uno specifico edificio o uno specifico autore: significa avvalorare la prospettiva più complessiva di cui essa è portatrice, ovvero la possibilità di uscita dalla crisi attraverso l'astuto mascheramento di quei principî di accumulazione e di sfruttamento della congestione che sono poi gli immutabili fondamenti dell'economia metropolitana.
Milano, 6 dicembre 2015