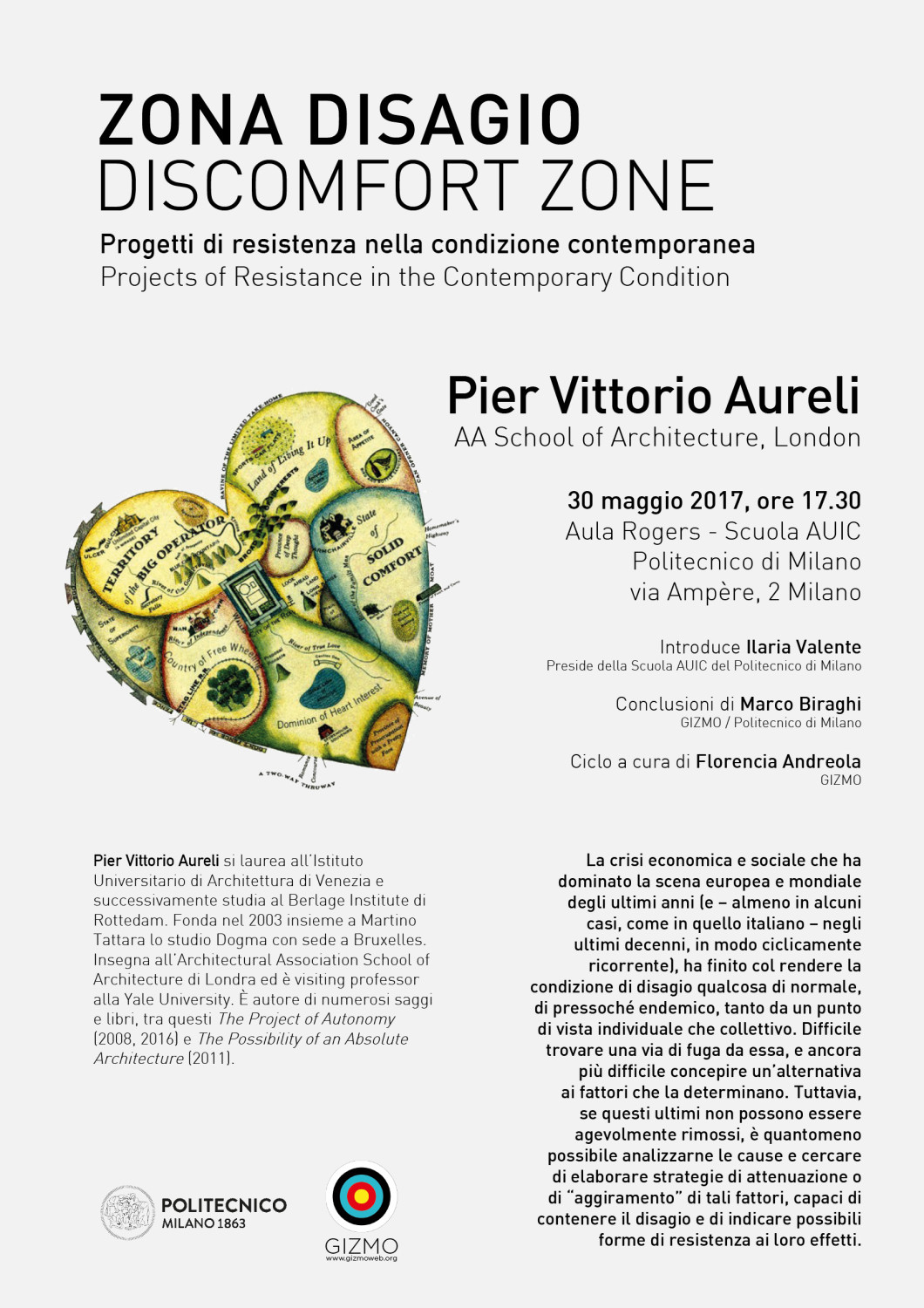 Pier Vittorio Aureli
AA School of Architecture, London
Introduce Ilaria Valente 
Preside della Scuola di Architettura e Società
Conclusioni di Marco Biraghi
GIZMO / Politecnico di Milano
30 maggio 2017, ore 17.30
Aula Rogers – Scuola AUIC
Politecnico di Milano
via Ampère, 2 Milano
***
ZONA DISAGIO
Progetti di resistenza nella condizione contemporanea
a cura di Florencia Andreola / GIZMO
La crisi economica e sociale che ha dominato la scena europea e mondiale degli ultimi anni (e – almeno in alcuni casi, come in quello italiano – negli ultimi decenni, in modo ciclicamente ricorrente), ha finito col rendere la condizione di disagio qualcosa di normale, di pressoché endemico, tanto da un punto di vista individuale che collettivo. Difficile trovare una via di fuga da essa, e ancora più difficile concepire un'alternativa ai fattori che la determinano. Tuttavia, se questi ultimi non possono essere agevolmente rimossi, è quantomeno possibile analizzarne le cause e cercare di elaborare strategie di attenuazione o di "aggiramento" di tali fattori, capaci di contenere il disagio e di indicare possibili forme di resistenza ai loro effetti.
Pier Vittorio Aureli si laurea all'Istituto Universitario di Architettura di Venezia e successivamente studia al Berlage Institute di Rottedam. Fonda nel 2003 insieme a Martino Tattara lo studio Dogma con sede a Bruxelles. Insegna all'Architectural Association School of Architecture di Londra ed è visiting professor alla Yale University. È autore di numerosi saggi e libri, tra questi The Project of Autonomy (2008, 2016) e The Possibility of an Absolute Architecture (2011).
Il ciclo di conferenze ZONA DISAGIO prosegue con Guido Mazzoni, il 15 giugno 2015.
* L'immagine usata è "Map of a Man's Heart", illustrazione per McCall's Magazine, 1960. Adattamento da un originale del XIX sec. a cura di Jo (Lowrey) Leeds e dell'editore McCall.
***
DISCOMFORT ZONE
Projects of Resistance in the Contemporary Condition
organized by Florencia Andreola / GIZMO
The economic and social crisis that has been holding the stage in Europe and worldwide for the past years (or in some instances, as is the case with Italy, cyclically recurring over the last few decades), has caused discomfort to be seen as an ordinary, almost endemic condition, individually as much as collectively. It's difficult to find ways of escaping it, and it's even more difficult to envision alternatives to its determining factors. But if the latter cannot be easily removed, it's at least possible to analyze their root causes and try to conceive strategies that could attenuate those factors or "work around" them, limiting discomfort and suggesting potential forms of resistance to its effects.
The series of lectures DISCOMFORT ZONE continues with Guido Mazzoni, June 2015, 15th.
* The flyer image is "Map of a Man's Heart", from McCall's Magazine, 1960. Adapted from nineteenth-century originals by Jo (Lowrey) Leeds and the editors of McCall's.