At the end of the press conference with Rem Koolhaas and Rotor (Barbican Art Gallery, London, 6 October 2011), Marcel Mauer meets Marteen Gielen, founder of Rotor, for a quick interview.
Maarten Gielen (MG): The title of the exhibition constitutes a reference to the way the content is displayed. If we had to empty the space and build something new inside it, we would have lost another week of research and work. We had to decide on the basis of what we really wanted, so the display devices, such as tables and walls, provide a really pragmatic way of presenting the documents.
Marcel Mauer (MM): Just by walking through the rooms of the exhibition, I felt that you had to undergo a challenging task reviewing OMA's archive. The end result is unexpected and intriguing. I came here today with the idea of writing an article about OMA but I think that I will write an article about Rotor instead!
(MG): Oh thanks! I must say that quotes by Rem always work better than quotes by Rotor, so if you have to use a quote, take a Rem's one (laughter).
MM: I met your work in Venice last year (Use/Usures, Belgian Pavillion, Venice Biennale 2010), which was very inspiring and just one year later here you are again at the Barbican today, curating the first substantial exhibition of OMA in the UK. You must be working really hard! Tell us more about Rotor.
MG: It is also a very pragmatic story: Tristan [Boniver] and I founded Rotor in 2005. At that time we both had to do a project with no budget and we were trying to find a way to combine the solutions of our problems. Looking for an answer, we opened the yellow pages to get in contact with all the companies providing timber moulds for concrete works. We soon realised that all the timber is periodically replaced. So we undertook a study focused on manufacturing cycles. We were interested in the transformation process both in a material and metaphorical (non-material) way. One of the first exhibitions that we did on this subject was in Germany [DEUTSCHLAND IM HERBST, Ursula Blickle Foundation November 9 – December 14, 2008]. The research was based on a series of visits to different manufacturing and production companies. Each of these companies were interesting to us for the metaphorical interpretation of their production process. For example, there was one Belgian company producing white polyurethane boots. The chemical reaction following the polyurethane injection resulted in a material overflow. The overflown polyurethane constantly dripped underneath the machine and once hardened it left irregular conic polyurethane pyramids. The exhibition was simply the collection of observations and notes on 15 different materials and manufacturing processes. The results of this initial work really got us enthusiastic about our research!
MM: The practice of critical selection, which underpinned this initial work in 2008, seems to me the main operating device used to identify the individual items for the OMA exhibition, now that the work is complete are you satisfied with the resulting message?

MG: What we wrote in the opening statement at the entrance of the exhibition is that our aim is to describe OMA's work in a purely technical way. Nonetheless we often heard comments underlining the apparently clear reference to various conceptual artists. This happened in a similar way with our work in Venice last year. I remember an artist friend of us who was enthusiastic about our work and wanted to discuss the reference to the work of Gordon Matta-Clark. Such reference is not something that we worked on consciously. We are not expecting a prior knowledge to understand our work but we are interested in the various interpretations that people find.
MM: Can we say that the research method on left over materials developed in the Deutschland Im Herbst exhibition in 2008 has been partially re-applied for the OMA exhibition?
–
MG: Yes and no. On the one hand we looked at the whole OMA production cycle in a similar way to our previous work in Germany but that work really focused on left over material whilst the work that we present for OMA is not just about left overs. Some of the images we present at the Barbican are clearly crafted by OMA to present publicly their works. We wanted to display both work in-progress and finalised images simply presenting them as documents. The difference between the original OMA representational images and our exhibition is that we are removing the assertive context of architectural marketing thus extending possible interpretations. Putting quotation marks before and after a text transforms the text into an opinion, no longer a stated fact. This difference between facts and opinions is stigmatised in our exhibition design. There is a section of the exhibition that is free of charge, and there the presentations are most influenced by OMA's own rhetoric.  You can find there a chronological list of all OMA projects to date, and a ready-to-use exhibition design that we found on the OMA server. We decided to display this as such, without altering anything, as one of the many documents displayed.
MM: This exhibition is primarily a work of archive research and selection, what is your experience in working with and in the OMA archive?
MG: It has been a tremendous! We not only had to work with the archive but also with the server. With the server it was relatively easy. If one knows what to look for, it is pretty straightforward but if one doesn't know what to look for, then it can get rather complicated. In those cases we had to overlap multiple searches. Each search was strictly connected to a key word such as "sustainable" or "travertine" or "glass" etc. Yet, even with key-word searches, it was still relatively doable. The real complexity started when we tried to pull together facts dating back twenty years ago especially because the turnover at OMA is extremely fast and people don't often remain more than 3 – 5 years. So looking for any information on a project ten or twenty years old, it was almost impossible. I must say that all OMA partners have been incredibly helpful in these cases.
MM: Leaving OMA for a moment and concentrating to Rotor. Looking at the projects done thus far, it would seem that your collective prefers curating than designing. Is this true?
MG: As you rightly say, Rotor is a collective so each decision has to be taken collectively. Design is a very slow activity if the whole collective has to agree on each design issue. We still like to design but – quite frankly – we are slightly uneconomical as a design studio simply because of the time needed for our decision process! In order to design effectively we must limit our work to the projects where we receive cart-blanch and this is easier in curating exhibition than designing projects.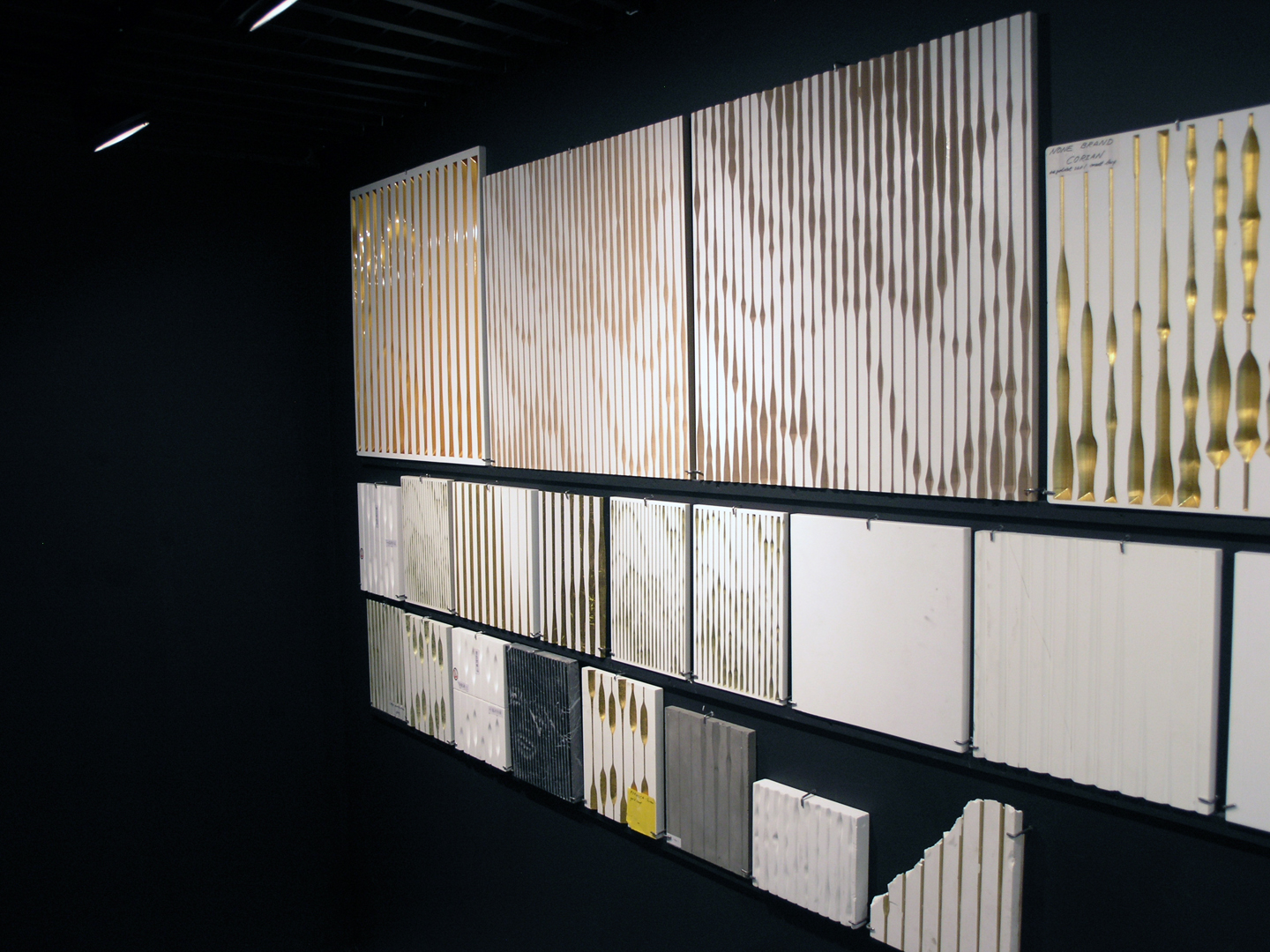 MM: Let's try now to connect the practice of your collective with the exhibition design for OMA, we could say that the aesthetic of the unfinished is partially a deliberate stylistic choice – with more or less explicit artistic references – and partially the pragmatic result of the constant dialectic within Rotor. Looking back at some of the major architectural exhibition just ten years ago, we might feel also a sinister resonance to the current economic crisis, is this symbolic?
MG: Not really, it is just about how we wanted to spend the money. Some of the things that were already present in the gallery space have been left how they were because we did not want to spend precious time to collectively agree on something that was not so important for us. So we just kept those elements as they were. On the other hand, for instance, having the right lighting was crucial to present such a heterogeneous content and therefore a substantial part of time and resources was spent on this. Similarly we were not interested in some fancy white pedestals that would have ended in a skip after the end of the exhibition so we opted for simple height-adjustable tables.
MM: It is clear that the primary effort for Rotor was to discuss the exhibition design and find an internal coherence. What has been OMA input in this?
–
MG: The task of browsing 3.5 million images is simply impossible without somebody's directions. All of OMA partners have been very helpful in directing our research. Also it is worth saying that there has been a lot of other people involved, such as clients, private funders, public institutions, as the collection is ownership of the exhibition content it implies a variety of parties.
MM: One last question, exhibition are great opportunity for visibility, do feel like being part of OMA marketing strategy?
–
MG: You know, it's a very interesting question. If your question would be "would OMA do all this if it was against their interest?" then the answer would be "no". If your question would be "is this all planned and clearly polished by OMA marketing consultants?" then the answer would still be "no". From OMA there has been a clear decision to delegate the whole exhibition design to an external team. Rotor is a collective of 4 people plus two collaborators, six of us can afford to spend half a day discussing the exhibition layout. If the same time and task had to be undertaken by the top seven partners of an international design office such OMA, it would have simply be impossible. It was necessary to delegate. We've experienced OMA in a very honest way. OMA are so bluntly explicit. If this was really their promo campaign probably you would have seen "OMA PROMO CAMPAIGN 2011" at the entrance! It's their style and I trust them on that!
MM: Thank you.
–
MG: Thank you.
***
Founded in 2005, ROTOR is a collective of people sharing a common interest in the material flows in industry and construction.
On a practical level, Rotor handles the conception and realization of design and architectural projects. On a theoretical level, Rotor develops critical positions on design, material resources, and waste through research, exhibitions, writings and conferences.