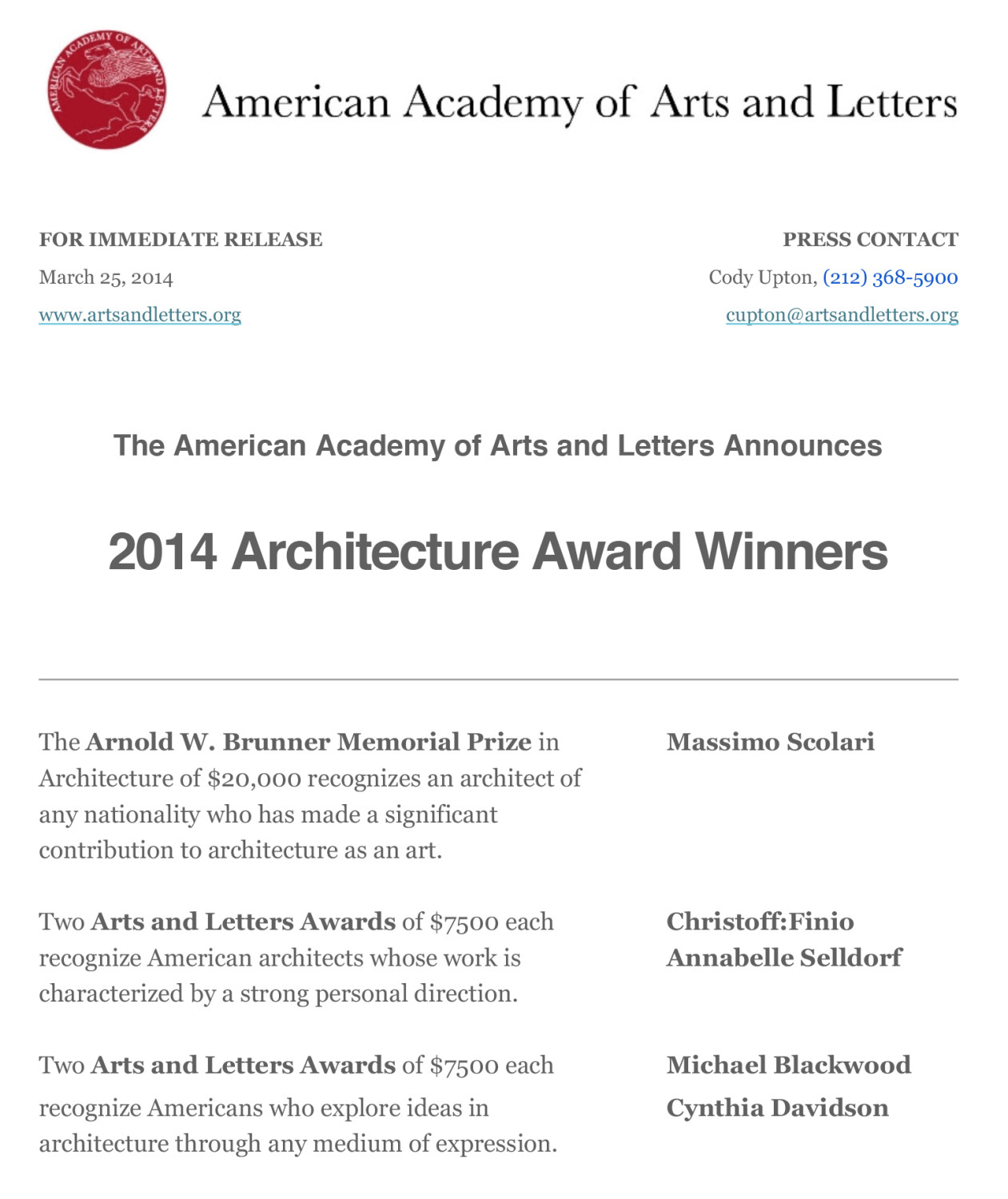 March 25, 2014, New York, NY — The American Academy of Arts and Letters announced the recipients of its 2014 architecture awards. The Academy's architecture awards program began in 1955 with the inauguration of the annual Arnold W. Brunner Memorial Prize in Architecture, and has since expanded to include four annual Arts and Letters Awards in Architecture, which recognize both architects and those who contribute to ideas in architecture through any medium of expression.
The winners were chosen from a group of 39 individuals and practices nominated by the members of the Academy. The members of this year's selection committee were: Henry N. Cobb, Elizabeth Diller, Michael Graves, Hugh Hardy, Steven Holl, Richard Meier (Chairman), Cesar Pelli, James Polshek, Robert A. M. Stern, Billie Tsien, and Tod Williams. All five awards will be presented in New York City in May at the Academy's annual Ceremonial.
Work by the winners will be featured in the upcoming exhibition on view in the Academy's galleries on Audubon Terrace.
EXHIBITION OF WORK BY NEWLY ELECTED MEMBERS
AND RECIPIENTS OF HONORS AND AWARDS
Admission Free
Thursday, May 22 to Sunday, June 15, 2014
Thursdays through Sundays, 1 – 4 p.m.
Closed Memorial Day Weekend, May 23 – 25
Audubon Terrace,  New York City
Broadway between 155 and 156 Streets
#1 Train to Broadway and 157 Street
Michael Blackwood "is a renowned independent documentary filmmaker who has dedicated nearly sixty years of his career to the work of internationally acclaimed artists. His 44 documentaries on architects provide honest and insightful accounts on the life and work of his subjects, and inspire audiences to contemplate the extraordinary visions of these cultural icons," said committee chairman Richard Meier. Mr. Blackwood's films include Beyond Utopia: Changing Attitudes in American Architecture, 1983; Mies, 1986;Deconstructivist Architects, 1988; John Hejduk: Builder of Worlds, 1992; Louis Kahn: Silence and Light, 1996; Frank Gehry: An Architecture of Joy, 2000; and The Practice of Architecture: Visiting Peter Zumthor, 2012. He is currently working on a film about Tadao Ando and Michael Comforti's expansion of the Clark Museum.
Taryn Christoff and Martin Finio founded the architecture and design firm Christoff:Finio in 1999. Their work "is characterized by a quiet intelligence that manifests itself in spaces that are both beautiful and humane," said Billie Tsien. "There is a balance between the exquisite control of their finely tuned details and the whoop of joy that comes when one discovers their subtle inventions. It is like watching a prima ballerina—all is in equilibrium and then she leaps." Notable projects include the Donghia Materials Study Center at Parsons New School for Design, New York City, 2003; "Museum as Hub" initiative at the New Museum of Contemporary Art, New York City, 2006; Heckscher Foundation for Children, New York City, 2009; Carriage House, New York City, 2009; Sagaponack Barns, NY, 2012; and Venice Architectural Biennial, 2012. Their work has received numerous AIA Honor Awards.
Cynthia Davidson is the founding director of the Anyone Corporation, an architectural think tank, where her "contributions to advancing the knowledge of architecture and its relationship to the general culture have been important intellectual catalysts," said Henry N. Cobb. "She has been the keen intelligence and adventurous spirit guiding Anyone's varied initiatives, including most notably its many publications." These include 28 issues ofANY that she edited between 1993 and 2000; 30 issues of LOG that she has edited since 2003; and 20 volumes in the Writing Architecture Series with MIT Press that she has edited since 1995. She has organized 10 international "Any" conferences on architecture, documenting each in a book, and more recently Contamination in Architecture at the Guggenheim Museum in 2010, and In Pursuit of Architecture at the Museum of Modern Art in 2013. She has lectured at conferences and universities all over the world.
Massimo Scolari is a painter, designer, and architect who "embodies the intellectual and cultural revolutionary spirit of the late 1960s and early '70s," said Peter Eisenman. "Not with nostalgia, but with a rigor that drives his exploration and representation of ideas in architecture today. He is a true polymath whose body of work, while at a small scale, demonstrates how the idea of the big is unnecessary to influencing the breadth of ideas architecture engages." His paintings and drawings have been exhibited in Europe, Japan, Russia, and the United States, and are in the collections of the Museum of Modern Art, Deutsches Architektur Museum, and Centre Pompidou. His installations include Arca at the Triennale di Milano, 1986, and Strada Novissima, 1980; Wings, 1991; and Turris Babel, 2004, at the Venice Biennials. He has taught history of representation and drawing at the Venice School of Architecture, and design studio at Cooper Union, Harvard, and Yale. He is the author of several books, including Oblique Drawing: A History of Anti-Perspective, 2012.
Annabelle Selldorf is the principal of Selldorf Architects, which she founded in 1988. Projects include the Neue Galerie New York: Museum for German and Austrian Art, 2001; 200 Eleventh Avenue, New York City, 2010; David Zwirner Galleries in London, 2012, and New York City, 2013; Hauser & Wirth Gallery, New York City, 2013; Sunset Park Materials Recycling Facility, New York City, 2013; and the renovation and expansion of the Sterling and Francine Clark Art Institute, Williamstown, MA, 2014. "The work of Annabelle Selldorf is like a diamond," said Tod Williams. "It ranges from the exquisite to the industrial, always honed by the precision of her gaze. Her restrained, understated elegance, intelligence, and ethical core has made her a unique figure among architects and an inspiration to us all. Diamonds are judged by their clarity in relation to water and Annabelle Selldorf is of the most pure."
The Academy
The American Academy of Arts and Letters was established in 1898 to "foster, assist, and sustain an interest in literature, music, and the fine arts." Each year the Academy awards over 60 prizes, ranging in size from $5,000 to $100,000, and presents exhibitions of art, architecture, and manuscripts, and readings of new musicals. It is located in three landmark buildings on Audubon Terrace, New York City.